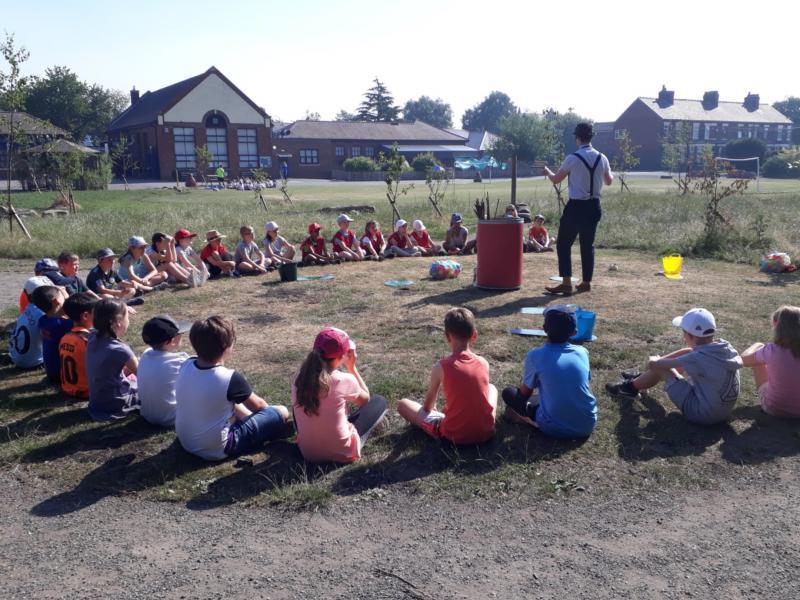 Location:
Across the Carbon Landscape
Summary:
Carbon Clever provides a variety of learning and engagement activities for children of primary school age. The project enables teachers to deliver the curriculum in an interesting and exciting way that draws on the unique characteristic of the local environment.
 RoundView and outdoor learning sessions will be delivered to targeted schools in and around the Carbon Landscape.    
This programme's targets were unfortunaltly affected by the Covid pandemic.
Achievements:
50 schools within walking distance of nature reserves sent wall posters.
807 primary children engaged
10 schools / colleges had nature reserve visits
1 Inset day with teachers, working in partnership with the Roman Catholic Diocese of Salford.
We received great feedback about the Carbon Clever from the Inset day, here are a few quotes from the teachers that attended: 
"Event was advertised through the Diocese …" "really good package of learning that can be applied and adapted across the curriculum" "Clear plans and outcomes"
To our knowledge this is the first time such a comprehensive range of school resources has been created by a Landscape scale partnership. These resources are so diverse because they have been created through a process of co-production of staff, partners, community groups, disability groups and Friends groups. Feedback from pupils and teachers was very positive in the sessions delivered before the pandemic. There is a latent demand for the resources. This has led to forging strong relationships with the education team at Wigan Council.
Professor Jiggett (Oliver Bishop) of Yan Tan Tethera created a series of games that can be incorporated into the school ciriculum to incourage children to activly engage with their local nature whilst learning. These games were really enjoyed pre pandamic as lessons for primary schools by both, the teachers and  the children. The lesson plan and games now exist as instructional videos around the Flashes, Mosslands and Mersey Corridor (these can be found in our resourse section under schools and teachers) .  
The second part of Carbon Clever was created by Fraser How of the Roundview project. He created a series of downloadable worksheets along side the answers sheets for teachers to be able to run their own eco-lessons in their schools. These resourses also include a lesson plan that guide's teachers through the sessions in a clear and concise way.
The RoundView project has set the local landscape to inspire future action towards sustainability. A series of hands-on games have been developed by Dr Joanne Tippett and Fraser How, which will be piloted in schools, galleries, museums and visitors' centres in partnership with the UNESCO UK Commission in 2023.
Quotes from the nature reserve visits
"We weren't sure what to expect and to be honest thought that mosses and peat sounded a bit boring – but the children have had an amazing time and are very interested and have learned a lot" School teacher after visit to a Mossland."
"When the landscape generates an emotional connection for pupils that is when social change happens. It not only effects them at school but their peers, families and wider community"
Into the future
Plans where agreed upon with the National Lottery Heritage Fund that the fous for Carbon Clever should be the developing off the shelf free digital resources that can be used and accessed by anyone. 
Carbon Clever Package for Key Stage 2, Outdoor games:
Yan Tan Tethera, Professor Jiggett how to play classroom games:
Lesson plan and all videos can be accessed here.
Carbon Clever Classroom Package for Key Stage 2:
Lesson plans and resource pack
The Landscape Adventurers Scheme including certificates!
Fun videos  including the amazing Yan Tan Tethera Reintroduce Your Love
Interactive computer games Who's hiding in the wetland, woodland or mossland?
Games including word searches and top trumps
Finding wildlife - the Augmented Reality app to see wildlife through your mobile phone which can also be used in the Classroom. For non AR enabled mobiles it is possible to just listen the community co-produced scripts
360 film for experience through VR headset to enable those with sensory needs to experience the outdoors
Key Stage 1 Waterways with links to the Carbon Landscape
Key Stage 2 Heritage Lesson plan with links to the Carbon Landscape
The real challenge will be spreading the word with the intention to post a RoundView Story of the Earth poster to every primary school within walking distance of a wetland site (50 schools).
How you can get involved: