The Gateways are an opportunity for first experiences into the Carbon Landscape. We are also creating new National Nature Reserves. 
National Nature Reserves were established to protect some of our most important habitats, species and geology, and to provide 'outdoor laboratories' for research. Most NNRs offer great opportunities for schools, specialist interest groups and the public to experience wildlife at first hand and to learn more about nature conservation.
The Flashes and Mosslands NNRs comprise of an archipelago of interconnected nature reserves, which is the largest remaining area of lowland wetland between the conurbations of Liverpool and Manchester. The NNRs also have significant lowland peat soils with their unique bog flora and fauna. Its range of wetland habitats, especially wet woodlands, hold nationally important populations of willow tits, Britain's rarest non-migratory bird. The NNR forms the backbone of nature recovery in this landscape.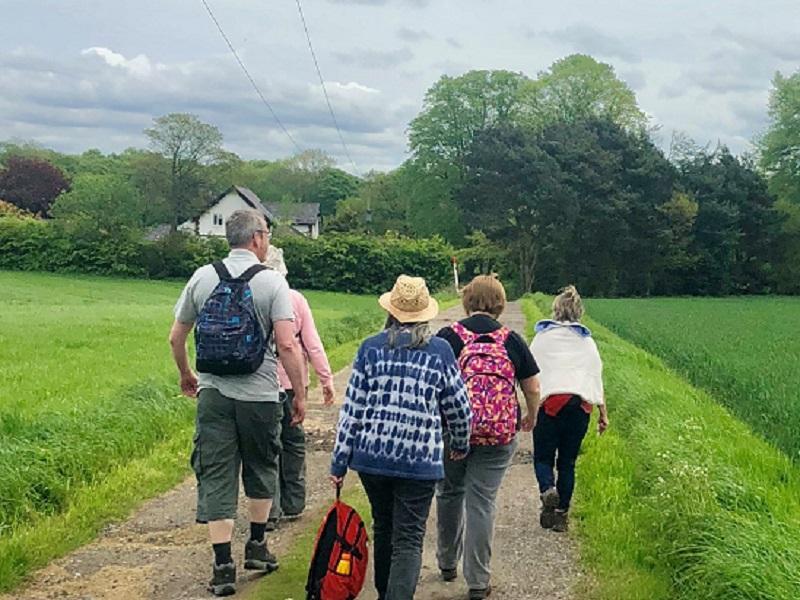 The Carbon Trail
The Carbon Trail is a 50km nature reserve walking trail over two to three days walking through the Flashes, Mosslands and Mersey Wetland Corridor.
A series of four shorter loops and linears along the way will provide interpretative features and tell the Carbon Landscape story.
Loops / Linear
Shorter loops are available will directions, supportive heritage podcasts, familiarisation videos and 360 photography.
Three Sisters to Wigan Flashes Heritage Loop 7miles /13.2km | Carbon Landscapes
Salford Heritage Timewalk | Carbon Landscapes
Warrington Heritage Loop | Carbon Landscapes
Flashes of Wigan and Leigh NNR @ Three Sisters, Wigan
Three Sisters Access for all comprises 3km wheelchair accessible paths co-produced with local groups with additional needs. The Easter Egg Treasure Hunt is always a highlight with egg rolling down Arena Hill, one of the former coal spoil heaps.
The a is family-friendly site
wildlife rubbings,
listen to mining historical re-enactment,
play a large metal xylophone to call the fairies and goblins of the enchanted tree trail (designed by St Peters Primary School Bryn),
have adventures on the Dragon Quest digital trail or orienteering trail
augmented reality trail on the bridleway
or see ducks on the lake, birds at the feeding station and dragonflies over the wetlands.
The site is owned by Wigan Council and has an active  Friends of Three Sisters | Friends of Three Sisters Information (friendsof3sisters.org.uk) and  The Hamlet - Three Sisters - Wigan (thehamletwigan.co.uk) operates in term time with a cafe. 
Mosslands of Wigan, Salford and Warrington NNR @ New Moss Wood, Salford
Hidden in the north west corner of the site is a spectacular display of cotton grass from late May to July.
Within walking distance of The Station Irlam – Train Station, Restaurant, Bar & Events café and heritage museum, New Moss Wood began life as a bog, was drained, became a place for the Victorian night soil of Manchester, a post-war vegetable farm, a woodland planted in 1998/99 and in 2020 had a rewetting programme with a mini moss created.
The site is owned by the Woodland Trust and supported by the local Hamilton Davies Trust Homepage - Hamilton Davies Trust
A metal art gateway welcomes you and was designed by the children of Cadishead Primary school. On site there are a few hidden adventure balance beams, a poetry podcast trail hyperlink and the ability to download the Augmented Reality Wildlife App so you can see the hidden wildlife. The site is also on the bridleway so it is possible to cycle north to the bigger Little Woolden Moss | Carbon Landscapes] but please note you will need to walk with your bike whilst at Little Woolden reserve.
Mosslands of Wigan, Salford and Warrington NNR @ Risley Moss, Warrington
June to September is a good time to see the dragonflies and keep your eye out for the family friendly "Green Safari" day. 
Risley Moss | Carbon Landscapes has a varied industrial history, having been extracted for peat and used as an ammunition factory. It boasts a visitor centre with toilets, disability access, several trails, including the Boggart Sculpture Trail and the celebrated boardwalk over the mini-moss.
The site is owned by Warrington Council, has a welcoming ranger service and has an active Friends Group  Risley Moss Action Group (rimag.org.uk)