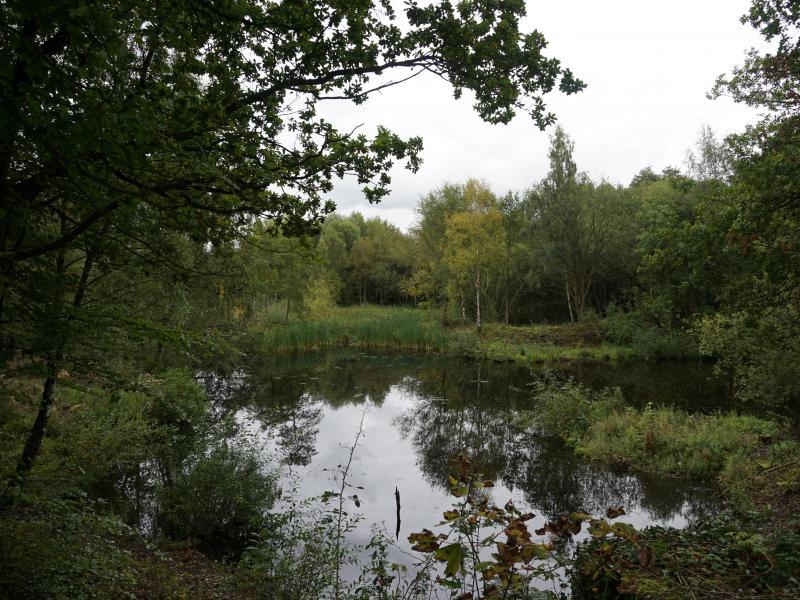 Summary:
R7RixtonClayPitsReport.pdf (carbonlandscape.org.uk)
Rixton Claypits is owned by Warrington Borough Council. This project included capital works linking two sections of Sites for Special Scientific Interest (SSSI) creating a natural corridor and aid the movement and intermingling of two largely separate Great Crested Newt (GCN) populations! The programme has overachieved its targets!
Achievements:
1.3ha species wet grassland fen improved
170m habitat corridor
4 Ponds (target 2)
In recent years, the rangers were able to find a farmer who was looking for somewhere to graze rare breed Hebridean and Herdwick sheep, species ideally suited to dealing with invasive Willow, Birch and Bramble. The fact they had a way to curtail scrub invasion gave them the confidence to press ahead with "Newtopia" as part of the Carbon Landscape.
A "stepping stone" pond was excavated between the two existing clusters of ponds. The pond clusters were opened up from dense scrub shading. The removal of scrub from the area allows sunlight into the rescued ponds, and the return of species rich grassland and fen, thus benefitting a large selection of plants and wildlife. Further to this, the damming of an old trench created additional breeding space for a rapidly expanding GCN population.
Ranger Mik Lees commented:
"I am proud we were able to bring the idea into fruition, creating additional species rich grassland, Fen and Ponds into an area previously completely shaded and mostly dominated by a single species. This ensured connectivity of habitats and their populations throughout the reserve, giving the resident Great Crested Newt population room for expansion."
Working closely with Natural England, and select contractors, the capital works went relatively well to plan. However, the overwhelming numbers of visitors, brought about by the Covid pandemic showed the reserves Achilles heel in that Rixton Claypits does not cope well with overuse.
Into the future
Maintenance is crucial, following on from the initial capital investment, to uphold the character and continuity of "Newtopia" as a concept for decades to come where future generations can benefit from today's work.
How you can get involved:
Contact the Warrington Ranger Service
​Telephone: 0161 777 9726