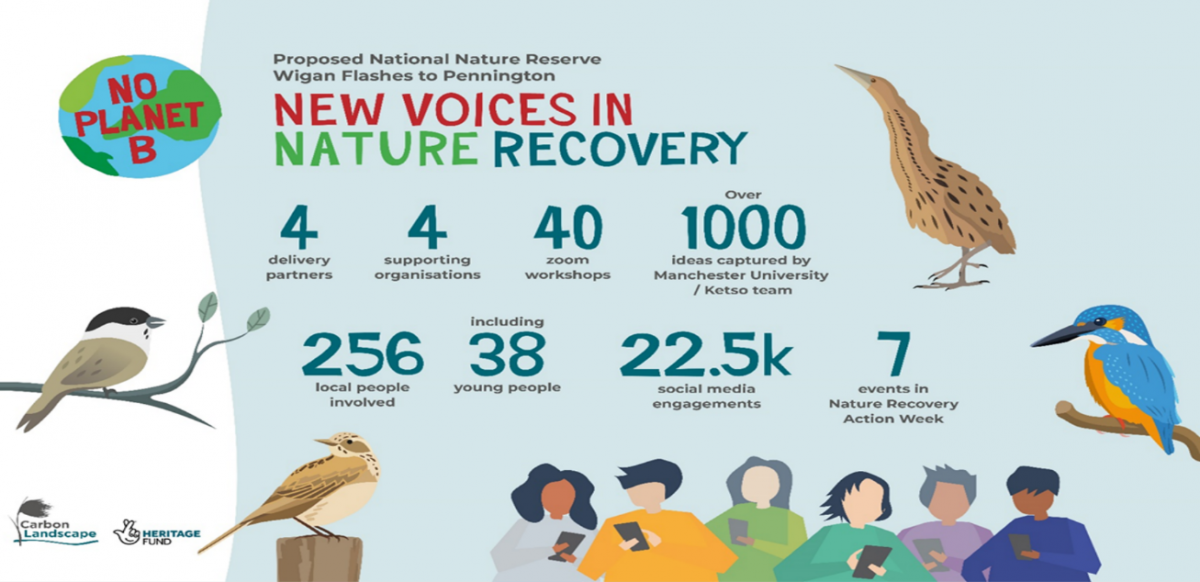 Summary:
Despite the enormous barriers posed by lockdown, we realised we hit a real latent demand for improving the recognition of the unique character of the Flashes from Wigan to Leigh with potential National Nature Reserve status. We engaged the local communities in this journey right from the start.
"I join around 10 webinars per week and yours was sincerely the best. The most engaging, inclusive, organised and fun!"
"I went to Hawkley Hall High School. We used to go cross country running at Scotmans Flash and I had no idea."
Layan - "knowing all the locations are near my house.. I just wanted to visit every place especially to see some ducks. I want to take my mum."
The jewel in the crown of the Proposed NNR project is a 45-minute documentary (with a 3 minute trailer) which has been presented by Josh Styles, who leads the North West Rare Plants Initiative, with one young person describing him as the "Brian Cox of Botany". Josh is only 24 so we are excited for a young person to be a figure head of the documentary.
"The establishment of a National Nature Reserve will be important for the amazing wildlife we have here. From booming bitterns to ostentatious orchids."
We wanted to capture the new voices in nature recovery so have a broad spectrum of young people engaged in the making and content of the film including a wheelchair user campaigner James and movingly he said being an advocate for improvement of access to the Flashes "had given him a voice."
This pilot and the journey subsequently have led to the Flashes of Wigan and Leigh being declared as a National Nature Reserve in May 2022. This is an astonishing legacy for the Carbon Landscape and will ensure that the Fenscape programme has a long-term management plan designed through co-production especially with local stakeholders e.g. Friends Groups and Leigh Ornithological Society. This indeed has gone onto influencing a new generation of NNRs which are not solely about rare wildlife but also about the potential for Connecting People with Nature. The new phase will see the start of a consultation process for the Proposed NNR Mosslands of Wigan, Salford of Warrington.