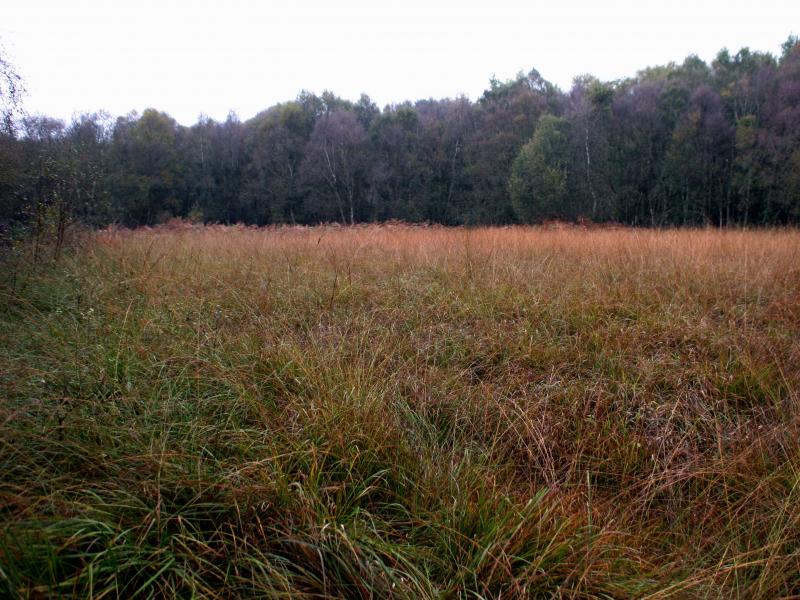 Summary:
R4PestfurlongMossReport.pdf (carbonlandscape.org.uk)
Pestfurlong Moss became dried out due to masses of bracken and scrub encroachment. By restoring this rare lowland raised bog habitat the site has become a significant ecological stepping stone. This has been done through rewetting and scrub and woodland management, the project significantly overachieved its targets although a boardwalk was not put in.
Achievements:
1.9ha Mossland improved
31 Pile dams installed
140m of Plygene / peat bunds created
266m of access paths enhanced
Further Achievements:
0.4ha wet woodland
10,000 bog plants including common and hare's tail cotton grass, sphagnum moss, cross leaved heath, common heather and bilberry
3 great crested newt ponds.
73 volunteers engaged.
Management plan
A word from the Carbon Landscape's Project manager Tony Da Silva:  
"I am astonished how well the mossland has responded to the rewetting work.  The biggest achievement for phase one has to be how Carbon Landscape programme Team, Natural England, Woodland Trust and Friends of Gorse Covert Mounds came together to plan, fund and deliver the rewetting." 
Dr Paul Thomas Natural England
"The Manchester Mosses Special Areas of Conservation (SAC) include Risley Moss and Holcroft Moss and they are internationally important. They cannot exist in isolation. They need to be connected for species to have a sustainable future. The rewetting of Pestfurlong is an important steppingstone. It is almost like an insurance policy since the bog bush cricket is here and we are working on this being a donor site to some of the other mosses around."
Steve Wright Chair of Friends of Gorse Covert Mounds.
"I am so excited about this because it is actually working and everything is going to plan."
One regular user of the site can now access the mossland using the steps installed.
 "Ever since I lived in Birchwood, I've been visiting Gorse Covert Mounds, but never been down to the moss.  I struggle with a bad hip and now use the steps most days when walking my dog"
Into the future
The Woodland Trust were so impressed with the work they have allocated a management budget to the moss. The site is part of a species reintroduction projects: donor for the Bog Bush Cricket (captive breeding programme with Chester Zoo) and receptor for white-faced darter dragonflies.
How you can get involved: