The Great Manchester Wetlands (GMWP) is a partnership of 22 local authorities, statutory organisations, environmental charities and community groups.
Our vision "By 2025, Great Manchester Wetlands will be a thriving, resilient and inspirational landscape that delivers real benefits to local communities and the local economy."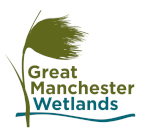 Great Manchester Wetlands
What is the Great Manchester Wetlands?
Containing a variety of habitats, such as water, fen, wet grassland, wet woodland and lowland raised bog, The Great Manchester Wetlands is a diverse landscape known as a Nature Improvement Area (NIA) stretching over 48,000 hectares. Within this incredible landscape, our combined work focuses on the wetlands of Wigan, the mossland in Salford and Warrington, and the Mersey Wetlands corridor stretching from Rixton to the Manchester Ship Canal and the Woolston Eyes SSSI in Warrington
The Great Manchester Wetlands Partnership
Who We Are
The partnership, led by Lancashire Wildlife Trust, with over 20 partners, was formed in 2011 to deliver improvements to nature and wildlife for the benefit of local communities and wildlife. The GM Wetlands was given Nature Improvement Area status in 2013.
To bring the vision to life, Great Manchester Wetlands Partnership developed the Carbon Landscape Partnership. This was to be their first delivery project and in 2016 they received 3.2 million from the National Lottery Heritage Fund. In March 2017, the Carbon Landscape Partnership began with a dynamic steering group of 14 organisations derived from the Great Manchester Wetlands and a programme team recruited to deliver and coordinate the project.
The Goal
Our main aim is to create a living landscape between Manchester and Merseyside creating an essential network of wildlife corridors linking biodiversity across the landscape and allowing the wetland habitats to thrive and survive.
Our vision "By 2025, Great Manchester Wetlands will be a thriving, resilient and inspirational landscape that delivers real benefits to local communities and the local economy."
How are we doing this?
By identifying wildlife corridors, creating and/or restoring appropriate and complementary wetland habitats, we aim to enhance and buffer ecologically important sites and link up biodiversity hotspots to allow free movement of species.   
The Story so far...
In the first five years of the Partnership (2011-2016), £5m of improvements were delivered by the partners across a range of sites in the NIA. The level of investment has not dwindled, and has continued since. Such as, in 2017 more extensive funding was applied for as a Landscape Partnership Bid to the Heritage Lottery Fund entitled "The Carbon Landscape". 
Ah, the Carbon Landscape!
I believe the name rings a bell? This five-year £2.9m programme of improvement includes the creation of wetland habitats - such as reed bed and wet woodland, restoration of peatlands and linking sites through a series of corridors and stepping stone habitats.  In addition, it is delivering a major programme of community engagement aimed at reconnecting communities with their incredibly valuable wetland heritage. The result of which, will benefit local people by improving their health, skills and a sense of ownership of the landscape. 
So, what happens next?
The current strategic plan from the partnership is looking to 2025, during this time, with the Carbon Landscape programme finishing in 2022, we will look to continuing the processes, measuring the level of improvements made and looking at the outputs from the Carbon Landscape programme, to then pass on to other partner organisations.  
We will continue on our quest to work with wider partners on areas of mutual interest such as peatland restoration for long term and wide-spread benefit, and continue to develop and deliver our partnership-wide project on Species Reintroductions, restoring sites and creating suitable habitat which can once again support plants and animals historically lost from the area, such as the Large Heath (Manchester Argus) butterfly. 
The Partners - Organisations involved in GM Wetlands:
NGOs/Charities/Community Groups
Canal and River Trust
Cheshire Wildlife Trust
City of Trees
Inspiring Healthy Lifestyles
Lancashire Wildlife Trust (Chair and Coordinator)
Mersey Rivers Trust
RSPB
Woolston Eyes Conservation Group
Local Authorities
Greater Manchester Ecology Unit
Salford City Council
Trafford Council
Warrington Borough Council
Wigan Council
Statutory Organisations
Environment Agency
Forestry Commission
Natural England
Businesses
Peel Land and Property Group
United Utilities
Academic Institutions 
Edge Hill University
University of Liverpool
University of Manchester
Manchester Metropolitan University 
University of Salford