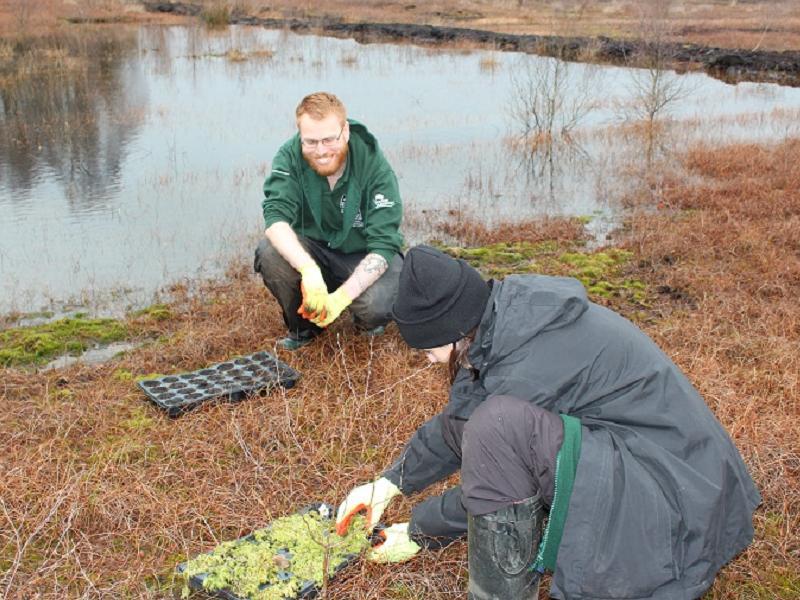 Location:
Across the Carbon Landscape
Summary:
R12CarbonRestorationCompletionReport.pdf (carbonlandscape.org.uk)
Nature over the last few decades has started to restore our post-industrial landscape. This healing of the landscape is giving our wildlife the space and freedom to expand so we now have the Great Manchester Wetlands and the Mersey Corridor, abundant with internationally rare species. Due to the loss of species during the industrial era and with ever increasing urbanisation, reintroduction programmes are becoming more and more important as the landscape continues to heal. Reintroducing both flora and fauna species into their correct habitats will have a huge positive impact on the overal ecology of the environment.
This project employed a Landscape Restoration officer who, over the course of the programme, co-ordinated and promoted all landscape restoration projects within the Carbon Landscape. The officer worked with our partners and other land managers to develop further physical landscape improvements as identified through the Steering Group and Technical Group.
The project provided ample opportunities for volunteers to be involved in practical conservation work and student placements support the delivery.
Achievements:
18 new projects (target 6)
£160,000 funding achieved (target £100,000)
630 volunteers engaged (target 200)
5 student placements
The sheer scale of the delivery has been incredible, triple of that which was originally envisaged! We even had two additional partners came on board the project: The Woodland Trust and Cheshire Wildlife Trust.
Here is a breakdown of what has been achieved at our sites:
Astley Moss – Bunding, rewetting and scrub removal to enhance SSSI
Little Woolden Moss – Reprofiling, bunding and rewetting. Also plants to support possible future reintroductions of large heath butterfly.
Risley Moss – Ponds for Great Crested Newts.
Holcroft Moss – Removal of invasive bracken, rewetting and planting to support SSSI.
Whitehead Hall – Pool and wetland creation.
Amberswood – Mossland rewetting and planting to connected fragmented moss. Created GCN pools.
New Moss Wood - GCN Pools, mini moss, rewetting bog, wet woodland and fen creation.
Golborne High School – converting a hockey pitch into a thriving wetland.
Pestfurlong Moss phase 2
Peel owned Chat Moss site plant reintroduction
Moss brook growers – hedge laying and pool creation
Park Moss – Mossland reclamation
Christine Elding (Whitehead Hall Meadow)
" I would like to thank everyone involved in the Carbon Landscape for their support of the trustees of Whitehead Hall Millennium Green.  We have been a partner …for some years and would not have achieved so many improvements to our site without the partnership."
The most successful project sites seem to be those where we have been able to deliver multiple Carbon Landscape programmes simultaneously.  Examples include New Moss Wood and Whitehead Hall Meadow, where we have layered Trails, Gateways and Sense of Place on the original Restoration projects. 
Into the future
A paper that outlines our achievements on New Moss Wood has been released by the Chartered Institute of Ecology and Environmental Management (CIEEM). This knowledge share will upskill organisations delivering similar peatland restorative works.
New Moss Wood, Pestfurlong Moss and Holcroft Moss are part of numerous GM Wetlands species reintroduction projects.
The Carbon Restoration project was so successful, a number of partners have highlighted further projects, that we simply just didn't have the time to deliver.  These are now sitting on the Great Manchester Wetland project pipeline and will be part of the Legacy of the Carbon Landscape!
How you can get involved: