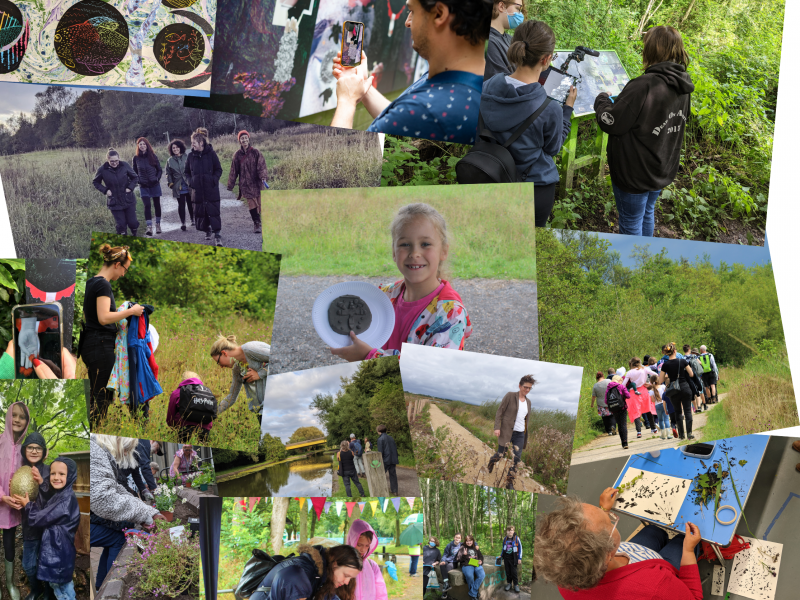 Wanderland is a pioneering creative partnership lead by the Lancashire Wildlife Trust and funded by Wigan Council, Community Investment Fund. Established in Spring 2021, alongside The Turnpike CIC, we developed projects across Wigan's abundant green spaces; connecting people of all ages to the extraordinary biodiversity on their doorstep.
​Artists will bring alternative and surprising perspectives through walks, trails, workshops, soundscapes, ceremonies, moments of healing and celebration. Through deep-rooted action with communities, our urban environments will connect to local nature sites. 
​The project reinforces the commitment of all organisations to developing a collective consciousness around climate change and the value of local green spaces through creative action.
 This project was not originally envisaged in the Landscape Conservation Action Plan (2016) and we can see an experiential step-change from forerunner projects. Wanderland brings together expertise in community engagement, digital arts, wellbeing and addressing carbon neutral targets with an outreach goal of a much larger and diverse audience alongside commissioners like Turnpike, Leigh and Manchester Literature Festival.
The programme will run a further ten months after the Heritage Lottery Funded period but at the point of writing there has been significant over achievement on the goals set out at the beginning of the project.
Achievements:
4 major projects
20 artists
36 community workshops
18 family orientated workshops
21 young 11-17 people orientated workshops
58 adult focused activities
7 trails
"Floating Earth" Luke Jerram with estimated 20,000 visitors at Pennington Flash [hyperlink]
"It's absolutely surreal. You walk through the trees and behold, at Pennington Flash, it's a thing of beauty. It is after all what the spacemen see when they look down on planet earth." ITV Reporter Tim Scott.
"Touch AR" Brass Art at Pennington Flash [hyperlink]
Touch AR mixes 3D scans of the artists' hands with 3D models and collaged images from the artists' collection. This imagery is drawn from the local history of Wigan and Leigh and has been taken on tour and with twinned with the town of Angers in France.
"Poet in Residence" Clare Shaw [hyperlink]
"I rapidly learnt that the Carbon Landscape was not home territory. It is a geographically, culturally, linguistically and historically distinct area. Throughout the summer of 2021, I came to understand how residencies enable us as artists to fully engage with the landscapes we work within."
"The trip was amazing, and all the young carers loved it, no rain can put us down!" Lauren Bentley Shine Team for Salford Young Carers, Gaddum Team.
"Wellbeing Wagon" Yan Tan Tethera [hyperlink]
"I love how Professor Jiggett creates feelings of wonderment at the same time teaching intricate lessons of nature. My daughter has enjoyed the sessions, sometimes magic always fun filled with laughter and joy. Away from the character of Jiggett is Oliver. An amazing creative whatever the media. The video "Reintroduce Your Love" I still consider a work of genius!"
​Wanderland is supported by Lancashire Wildlife Trust, National Lottery Heritage Fund, The Turnpike CIC, Wigan Council and Arts Council England.