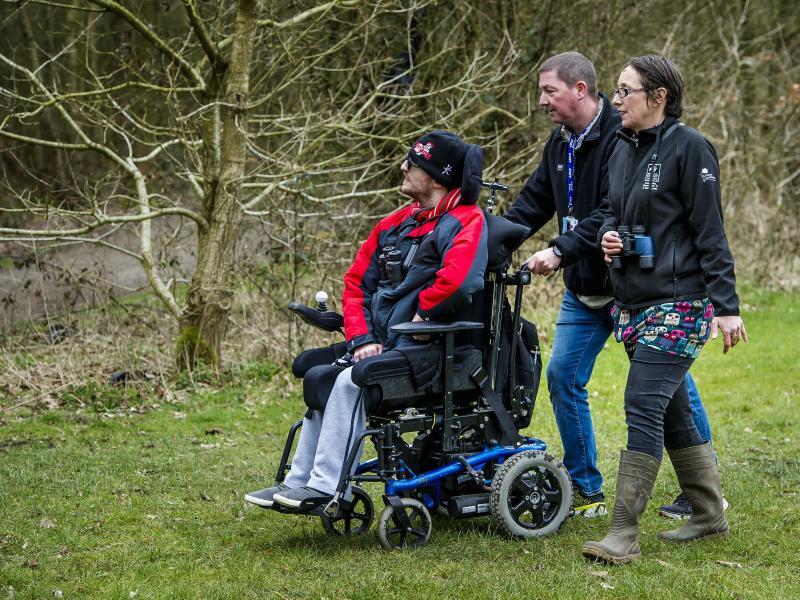 Location:
Throughout the Carbon Landscape
Summary:
I1SenseOfPlaceReport.pdf (carbonlandscape.org.uk)
The Sense of Place Project set up a support network for the various user groups located within the Carbon Landscape. Through supporting community groups to conserve and enhance their local environment, the Sense of Place Project instilled pride and engender community ownership in our Carbon Landscape project area.
Achievements:
1 expanded and supported network
30 projects developed
62 new groups supported
Over 215 people engaged within sense of place groups
49 information bulletins
1257 people reach with the circulation of the information bulletin
9 networking events
289 people engaged through networking events
The greatest achievement is the "stepping up" of community groups that have come together to deliver projects for their wetlands and wild spaces, moving out of their comfort zones and taking on more responsibilities. In many ways this is captured in other projects.
Sense of Place has often involved groups being in it for "the long haul" starting at the wishlist, to planning, fund raising and through project delivery with difficult skills like dealing with subcontractors etc.
Sense of Place Coordinator Jenny Griggs
"the sheer quantity and quality of projects co-produced with volunteers and staff is astonishing and the lasting impact of the friendships made will benefit the landscape for years to come."
Landscape Champion Coordinator Steve Ormerod
"Sense of Place is all about interpretation of the landscape and engendering feelings of ownership in the community. Otherwise all efforts are pointless. The community are the true legacy of the Carbon Landscape."
New paths at Worsley Woods with Worsley Woods Action Group part funded by Viridor
Risley Moss Action Group Various projects with a highlight being around fundraising after the Tower Hide burnt down and attending lots of events with them
Leonard Cheshire various site access audits funded by the Can Do Project
Leonard Cheshire Can Do Volunteers with Oakwood Academy funded by the Can Do Project
Leonard Cheshire Can Do Volunteers with Thrive CIC funded by the Can Do Project
Crossing at Pennington Flash funded by Wigan Council after disability groups met them funded by Wigan Council
Friends of Chat Moss various especially around community education and bog in a box
Creation of a mobile trail for groups by MyLife and Expanse (people with additional needs),
Through our Eyes Arts projects by MyLife and Expanse
Piloting summer activities for children in Salford with Gaddum charity for a brochure for eco tourism
Creation of Carbon Landscape animal lanterns with Independent Disability Services funded by the Granada Foundation
Creation of Top Trumps with the Hamlet funded by the Granada Foundation
Creation of a hedgerow at Cardinal Newman School, Creation of a wildflower corridor with the Environment Agency near Westy Point) funded by the Woodland Trust Trees for Life
Wetland Wellbeing - Westy Older People's Forum funded by the Community Foundation of Cheshire
Gorse Covert Mounds Interpretation funded by the Community Forum Warrington Council
Friends of St Mary's Park Walkden – Gruffalo and Park Event alongside Little Hulton and Walkden Neighbourhood Team
Little Hulton Project around youth engagement funded by the Police Commission
Little Hulton Neighbourly around arts and litter champions funded by Neighbourly
Westy Morris Brook Clear Up funded by Neighbourly,
Leigh Sports Village Clean up and willow tit project funded by Neighbourly,
Whitehead Hall Millenium Green (reported under Restoration) funded by Enovert
Bickershaw Country Park - sculpture trail funded by the community
Grow Wild Bog Set – funded by Botanical Gardens Kew
Roscoe engagement across Chat Moss funded Leeds University
Mindfulness app funded by Tesco Bags,
Amberswood wildflower project,
Digital games for wildlife recognition funded by Tesco Bags
Wigan Flashes Postcode Lottery Project
Wigan Flashes Community and Conservation Group – path improvements to Moss Bridge funded by the Cooperative Stores
Chat Moss Schools Project. As this during lock down it was to be used online funded by Salford CVS
Rubbings Trail run by friends of Woolston Park and funded by the Community Foundation for Cheshire Community Foundation for Cheshire
Into the future
www.carbonlandscape.org.uk/guide-voluntary-groups Guide for Voluntary Groups (formerly Sense of Place Toolkit) – the pdf toolkit captures all the skills needed to run a successful project into the future.
www.carbonlandscape.org.uk/habitat-guide-community-groups Habitat Management Toolkit for groups on the Mersey Corridor – created by Trainee Stuart Manning.
Both of these are going to be updated for the 2 ongoing National Nature Reserves and Greater Manchester Green Social Prescribing pilot and so the core work of the Carbon Landscape can influence wider.
How you can get involved: